Why migrate to a headless commerce architecture?
Amidst the current economic slowdown and an unpredictable environment, customer demands are evolving at an unprecedented pace leaving retailers facing new challenges everyday. In order to keep up with customer expectations, and adapt quickly, brands need to look to digital innovation to improve digital experiences that will in turn increase profitability and ultimately lower business costs.
Keep reading to learn how to migrate from a monolith to headless commerce with our essential steps to a successful migration.
92% of businesses think it's easier to deliver a powerful digital experience with headless commerce platforms. – WPengine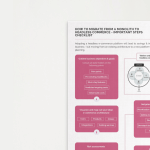 Skip the article & download the checklist ↓
7 Reasons to Leave your Monolith platform behind:
Monolithic e-commerce platforms are outdated and have unfortunately many limits in terms of agility. Each brick is integrated with one another, making it complicated, costly and time consuming to make changes to the platform.
Outdated technology
Continual maintenance
High total cost of ownership
Marketing is unable to move quickly
Scalability is stunted
Security is questionable
User experience (especially mobile) cannot be adapted to the modern customer's needs
Why should your adopt a Headless e-commerce platform?
Whereas, a headless commerce platform is more flexible. The front-end and the backend are decoupled and each e-commerce service is loosely connected via API making it possible for engineers to work on different integrations independently for the foreseeable future.
Deliver the right experience to customers, developers and merchants
Say goodbye to future replatforms: adapt to consumer needs without undergoing a complete overhaul
Control & lower your costs
Focus on omni-channel experiences & digital performance
Reduce energy consumption – technologically and in terms of manpower
What does a headless architecture look like?
The different components that make up a headless commerce architecture will typically be organized as in the diagram below. Each block in the diagram represents e-commerce functionality. A merchant can select the best-of-breed components that deliver the most value to their specific case, combining them together effectively to ensure they reach their business goals.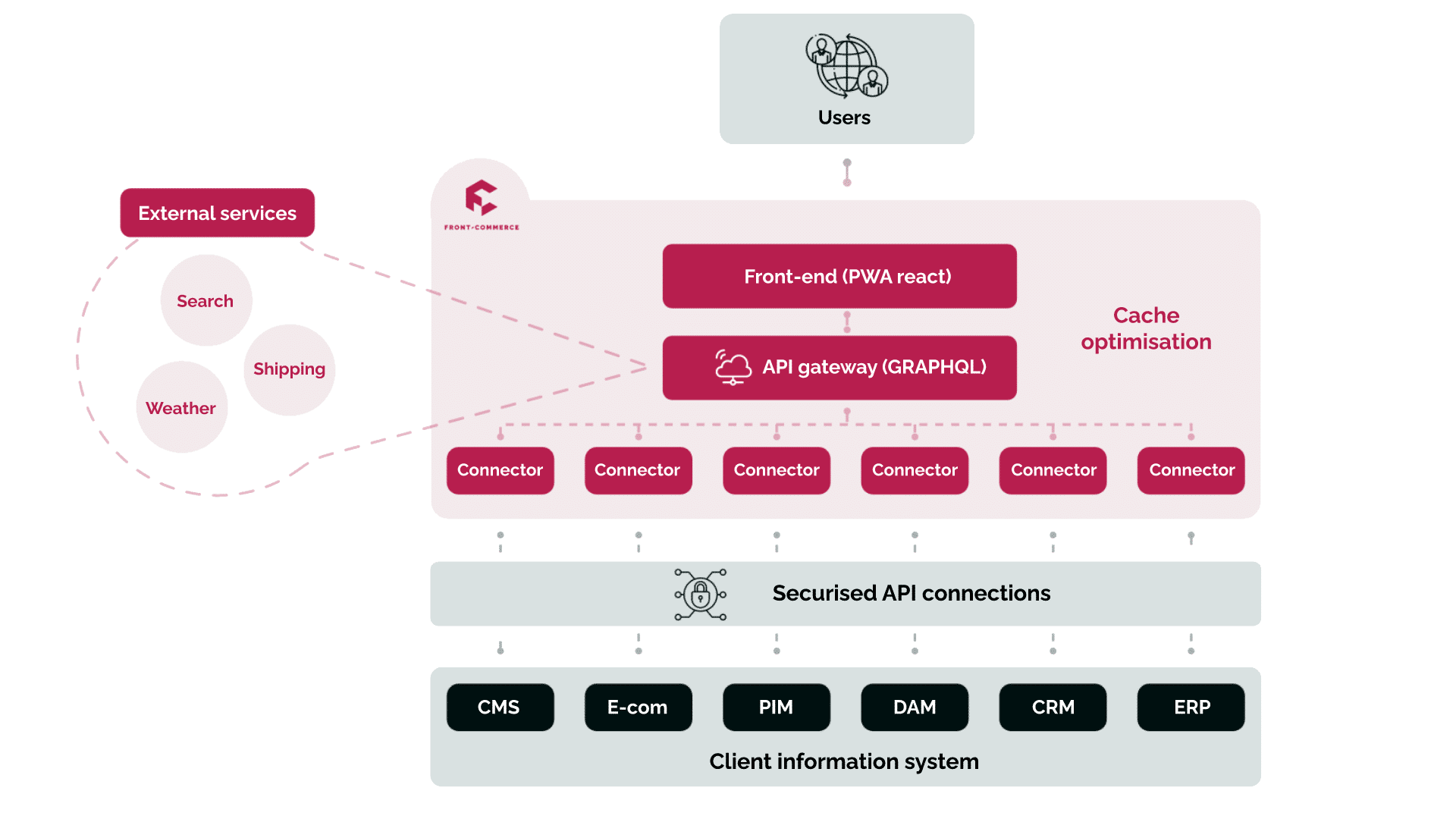 7 Important Steps to an e-Commerce Migration Checklist
Moving from a monolithic to a headless e-commerce platform will lead to big savings and incredible growth for your business. But making the move from any existing architecture to a new platform requires careful strategic planning. We've outlined the 7 main steps to keep in mind when planning your e-commerce replatform.
Outline business objectives and goals, getting input from all stakeholding services.
Ask your marketing, business development, IT, operations & customer experience departments the following questions:
What are their pain points?
What slows them down?
Are there any pre-existing roadblocks?
What features must stay?
What will be the initial build costs?
What are the predicted ongoing costs, and compared to current costs?
Visualize and map out your ideal e-commerce architecture
Keep in mind the pillars of your platform: users, orders, and products and integration needs. Also not forgetting features and services that you have in place now that must also exist in the new platform.
Risk assessments
Data migration: map data and integrations that need to be migrated and/or converted.
Estimate any down time and the consequent impact on traffic & performance
Content & SEO audit: what's staying and what's going
Hosting and infrastructure needs for integrations APIs
UX specifications & design
Set priorities & create a roadmap
What areas of your platform need to be migrated first?
Are you happy to keep your backend as it is?
What changes can bring immediate results?
Can we proceed internally?
Consider a progressive migration as it may be the most adapted option
Development & build
Whether you are developing in-house or not, a timeline will need to be established depending on the key components of your platform.
Migrate data
What data needs to be migrated?
Where is the data being stored today and where do you want it stored in the new system?
When is the right time?
Backup & test for launch
Backup your systems to ensure that no data is lost if something goes wrong during migration and launch. After migration has been completed, test EVERYTHING: integrations function correctly? Any broken links? Missing data?
A "before and after" of migrating to headless commerce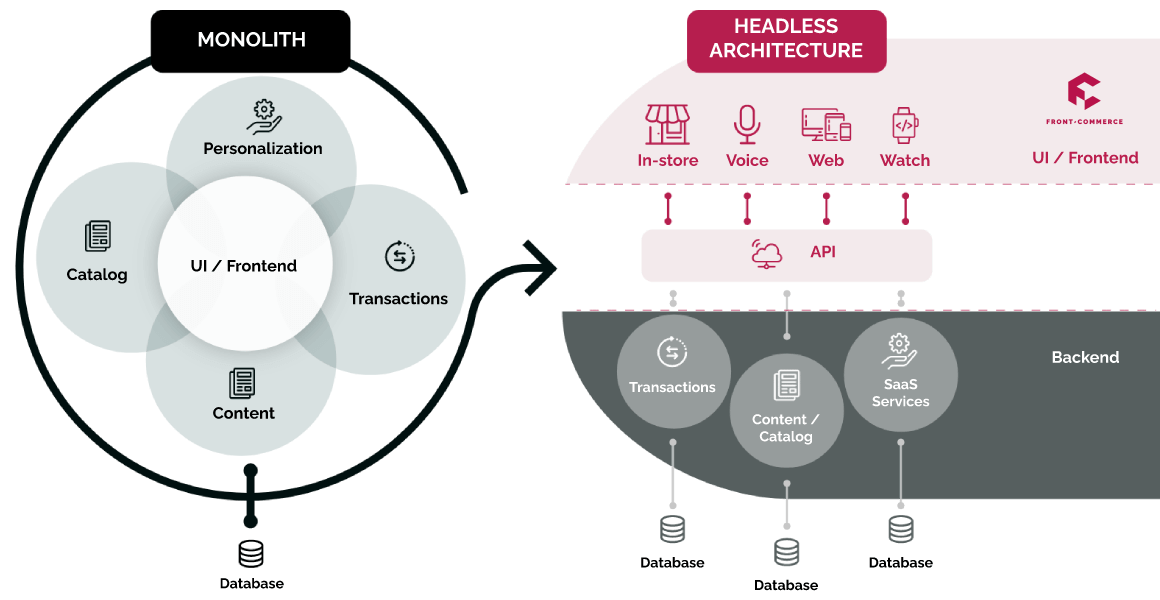 Migrate to a headless commerce architecture
Adapting your monolith architecture to that of headless commerce is essential if you want to keep growing your business today. It will give a business the flexibility it needs to keep innovating and adapting to customer and stakeholder needs.
It is however important to consider the replatform strategically, taking into account your different priorities and technical best practices. Progressive migration makes the move a lot less painful allowing brands to control risks and costs but breaking up the replatform into multiple projects.
Our client, Kaporal, decided to move to headless commerce progressively in 2020. Learn more by reading the use case.