Front-end development is a complex process that can take weeks or even months to complete. But what if you could outsource it? That's where front-end as a service comes in.
A front-end is the part of a website that a user sees and interacts with. It's the face of the website. The back-end is what powers it, handling all the behind-the-scenes work. Front-end development is a complex process that can take weeks or even months to complete. Many companies are now turning to front-end as a service (FEaaS) providers to get their websites up and running quickly and efficiently.
Frontend-as-a-Service is a simple approach to front-end development that outsources the technology, development, technical support and versioning of a frontend to a solution provider.  FEaaS comes with ready-to use frontend experiences that are 100% customizable. Businesses avoid building their storefront from scratch as pre-built modules are provided by the FEaaS. A retailer's teams can focus on the user journey and experience instead of technical constraints.
Frontend as a service architecture example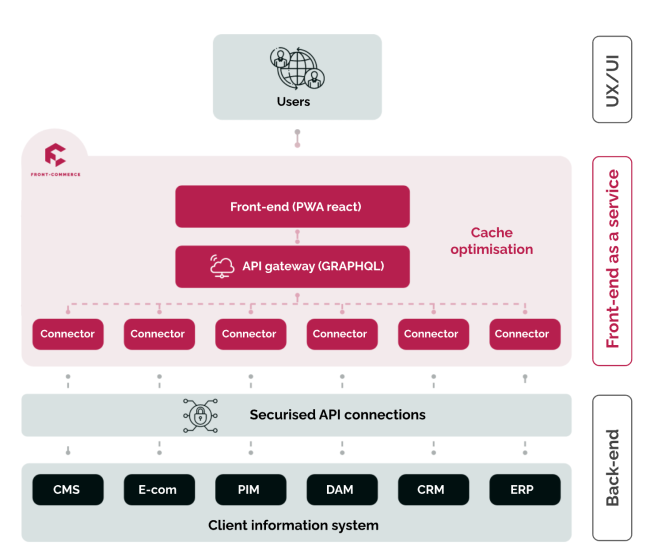 Top 4 reasons to switch to Frontend-as-a-service (FEAAS)
A faster & more cost-effective time-to-market
FEAAS allows you to select a Best-of-breed solution
Scalability and Flexibility at the heart of FEAAS
Improved Site Speed and Conversions
Why choose a frontend as a service?
Traditionally, businesses would have to hire in-house developers to create their website's storefront. This was often expensive and time-consuming, so many businesses turned to template websites instead. These templates are pre-made websites that you can buy or rent, and they come with a range of built-in features. However, they're not always customizable, and they can be quite restrictive.
Nowadays, there's a new option: front-end-as-a-service (or FEaaS for short). This is where businesses can outsource their front-end development needs to specialized providers.
Choosing a Front-end-as-a-service has several advantages over traditional methods:
It's more affordable. You only pay for the services you use, rather than hiring an entire team of developers in-house.

It's faster. You work with experts who already know how to build effective frontends quickly and efficiently.

It's more customizable. Front-end providers offer a wide range of templates and features, you can find one that perfectly suits your needs.

It's more scalable. If your business grows or changes direction, you can easily adapt your front end without making any major changes to your website infrastructure.
FEaaS providers offer their services to help businesses create and manage beautiful, responsive websites without worrying about the technical aspects of a storefront. This can be a great option for small businesses that don't have the time or resources to do everything themselves.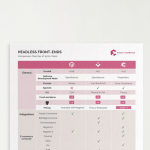 Front-end as a service Comparison Chart. Download the PDF.
There are a few things to keep in mind when considering FEaaS:
Make sure you pick a provider with experience in your industry. Different industries require different types of front-end development, so it's important to find someone who knows your specific needs.

Cost: One of the benefits of using a FaaS provider is that it can be more affordable than hiring a full-time developer. However, it's important to compare costs between different providers to find the best deal.

Features: Make sure the provider offers the features you need, such as responsive design, cross-browser compatibility, and SEO optimization.

Customer Service: Good customer service is essential for FaaS providers. Ensure the provider has a good track record for providing prompt and helpful support.

Ask for references and read reviews from other customers. This will give you an idea of what to expect from the provider and whether they are a good fit for your business.

Be prepared to pay a premium for FaaS services. Because this type of development requires specialized expertise, providers typically charge more than traditional web design agencies.
Many FEaaS providers are out there, but not all of them are created equal. It's important to do your research before choosing one, as not all offer the same support quality.
When looking for a FEaaS provider, you should consider cost, features, references, and customer service. You should also make sure that the provider has a good reputation and that they can meet your specific needs.
How does this unlock Composable commerce?
One of the key benefits of using FEaaS is that it allows businesses to adopt a headless approach to eCommerce. With a modern headless commerce architecture, the back-end (which deals with orders, inventory) is separate from the front-end (which displays products and takes payments). This gives businesses greater flexibility when scaling up their eCommerce operations. For example, they can add new products or change suppliers without impacting the rest of the services in place. In addition, it makes it easier to integrate different systems (such as ERP software ) into your eCommerce platform.
Overall, front-end as a service can be an excellent option for businesses that want a high-quality, highly functional web experience without dealing with the hassle of doing it themselves. Just make sure you do your research and pick the right provider. Learn more about Front-Commerce's front-end service.