The B2B buyer journey has always been complex. And today, with the ever-changing demands of the modern industry buyer, it has become even more necessary to rethink the buyer journey, creating a future-ready digital experience.
In the age of digital transformation, buyers are increasingly taking control of the buying process. They're researching their options online and engaging with suppliers early in the process. This has led to a new, more complex buyer journey that businesses can find difficult to navigate.
To succeed in today's market, it's essential to understand how this B2B buyer journey works and adapt your sales and marketing strategies accordingly. 
Let's take a closer look at the different stages of the B2B buyer journey:
Awareness: The buyer first becomes aware of a need or problem they want to solve. At this stage, they may not even know what solutions are available yet.

Research: The buyer starts researching potential solutions and gathering information about them. They may reach out to friends and colleagues for recommendations or search online for reviews and comparisons.

Evaluation: The buyer narrows down their options and evaluates the different solutions based on their needs and budget. This is when they reach out to suppliers for pricing quotes and product demos.

Purchase: The buyer makes a final decision and purchases the solution from the supplier they feel best suits their needs.
Your sales are high-cost, and your representation is incredibly important in order for you to maintain a flow of interested buyers. When a brand seeks out a wholesaler, they're going to look for the option that is easiest, the most streamlined, and the fastest. If you want to be first in line, you'll have to make sure your website is compatible with mobile devices.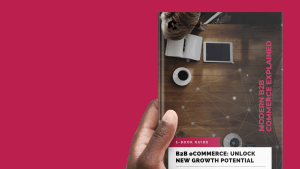 B2B eCommerce Report
Everything you need to know about eCommerce solutions for your b2b commerce.
The complexity of B2B commerce
For businesses to succeed in B2B commerce, they need to understand the complexities involved in these transactions. They also need to understand their own businesses and what products or services they offer.
It's important for businesses to partner with other businesses that can help them navigate the complexities of B2B commerce.
Adapting to the modern industry buyer
In order to stay ahead, companies must adapt to the latest trends and changes in the market. This includes adapting their sales strategies and tactics to match what industry buyers are looking for.
An industry buyer is someone who buys raw materials or goods for their company. They may be responsible for purchasing items such as office supplies, food, or even machinery. Because they work within a specific industry, they have a good idea of what products and services are available on the market, as well as what prices are reasonable.
Due to this knowledge, it's important for businesses to cater their sales pitches and proposals specifically to industry buyers. This means highlighting the features and benefits of their product that matter most to these buyers. It also means being aware of any current trends in the buyer's industry so that your company can offer solutions that meet these needs. You'll not only make it easier for them to buy from you but you'll also increase your chances of winning more contracts.
The Digitalization of B2B Commerce
The digitalization of B2B commerce is inevitable. The question is not if it will happen but when and how fast it will spread. Many factors are driving the digitalization of business-to-business (B2B) commerce. Among them are
the explosive growth in mobile devices and apps,

the ubiquity of high-speed Internet access, and

the increasing use of cloud services.
These trends are accelerating the move to a digitally connected world where buyers and sellers can interact seamlessly anytime, anywhere. This new reality disrupts traditional business models and forces companies to rethink how they do business.
The good news is that businesses that embrace digital transformation can gain a competitive edge by streamlining operations, improving customer service, and expanding their reach into new markets. However, those that don't, may find themselves at a disadvantage as competitors leap ahead with innovative new products and services.
The number of B2B customers using digital self-service channels to research products in 2019. (Source: Mckinsey.com)
Creating a future-ready platform and experience
Creating a future-ready platform and experience is essential for any business. By planning and designing your system with scalability in mind, you can avoid many of the headaches (and potential costs) associated with upgrading or expanding your infrastructure down the road.
When designing your platform, it's important to think about how different components will interact. For example, if you're building a web application, you'll need to consider how users will store and access data. You'll also need to decide on an architecture that can handle increased traffic as your user base grows.
How much do you utilize your backend data? Do you know how long it takes for your webpage to load on the browser of an android as opposed to an iPhone? What if you could optimize it? We can get you those stats, and we can make it all speedier. This is going to mean big changes for your conversion rate. A little help with your SEO optimization can take you miles in the right direction, and we've got you covered there, too.
In addition to planning for scale, it's important to create a platform that is easy to use and navigate. This means ensuring that all components are intuitively designed and well organized. Users should be able to find what they need without searching through multiple screens or menus.
In the long run, you'll spend less on a third-party service to help you go mobile. The amount of time you would otherwise spend having to learn and relearn mobile design processes would ultimately cost you more in both hours worked, and mental stamina. There's no need to subject yourself to learning the nuances if you don't have to – and your brand experience should be the same across all of your channels, whether it's safari, chrome, or mobile firefox. 
Front-Commerce makes sense for modern commerce
What do you think about the buyers changing demands? Do you prefer to have choices for products and services, or do you like things to be more streamlined? 
It may seem strange to process such large transactions on a cell phone, but be ready: the future is right around the bend. Your buyers won't be waiting for you to catch up, they'll be ordering stock on the subway from their mobile devices, not on desktops. Let's streamline your B2B processes. It's more important than you might realize. Click here to learn more.