Everblue France adopts headless B2B approach to improve sales processes in dealerships
Pool specialist Everblue France has around a hundred dealers who benefit from a central purchasing unit to order the equipment they need for their concessions. The company decided to redesign its B2B commerce website to meet the ergonomic needs of its Customers, who today conduct their business from mobile tablets and desktop computers.
Maximize productivity with ERP and mobile B2B commerce
Everblue France is a leading company in the French swimming pool market, with almost 100 dealers across France. It specializes in the sale of products and equipment for pool construction, renovation and maintenance. It is also present in other countries, notably Switzerland.
While replacing its ERP service, Everblue faced the challenge of improving its B2B website for its dealers.
This transactional site is a central purchasing facility, enabling customers to order most of the materials and accessories they need for their business.
The aim was to optimize and improve the site's ergonomy and performance, in terms of search engine efficiency, page loading and user-friendliness for mobile devices, while retaining some of the existing functionalities of the previous version.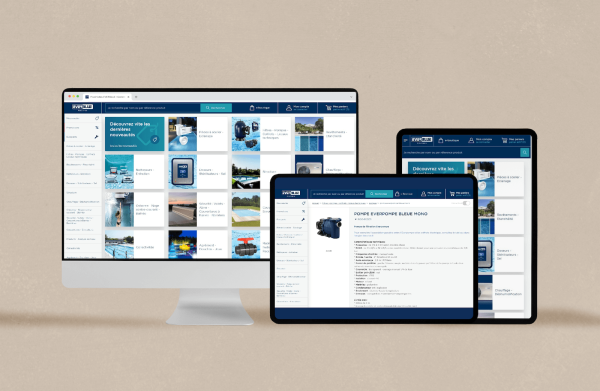 A Mobile Desking Process with Custom Features
Wavesoft had already been identified as an ERP for EVERBLUE and was integrated by ELDEX. The digital agency Occitech was entrusted with the design of the B2B "e-Catalogue" website.
The specific features of the new platform:
Front-end to provide full native Magento coverage
Replatforming without: payment, shipping functionality, CMS
Multiple flows between the ERP, backend and frontend were to be taken into account
Number of products: over 28 thousand SKUs
The technology was chosen and the user experience was designed with the dealer's journey in mind, ensuring that it was optimized for each stage of their workflow. Often equipped with tablets, dealers need to be able to access products while browsing the store with their customers.
Magento 2 was chosen as the backend for its ease of integration with Wavesoft, and its ability to adapt to the headless architecture needed to maintain the existing and implement new features and customized services.
Front-Commerce was the ideal frontend to ensure a high-performance user experience on all devices: tablets, visitor screens, desktops. Not only is it ready for B2B commerce, but integration via API, decoupled from Magento, gave the design team the freedom to implement the UX of their choice.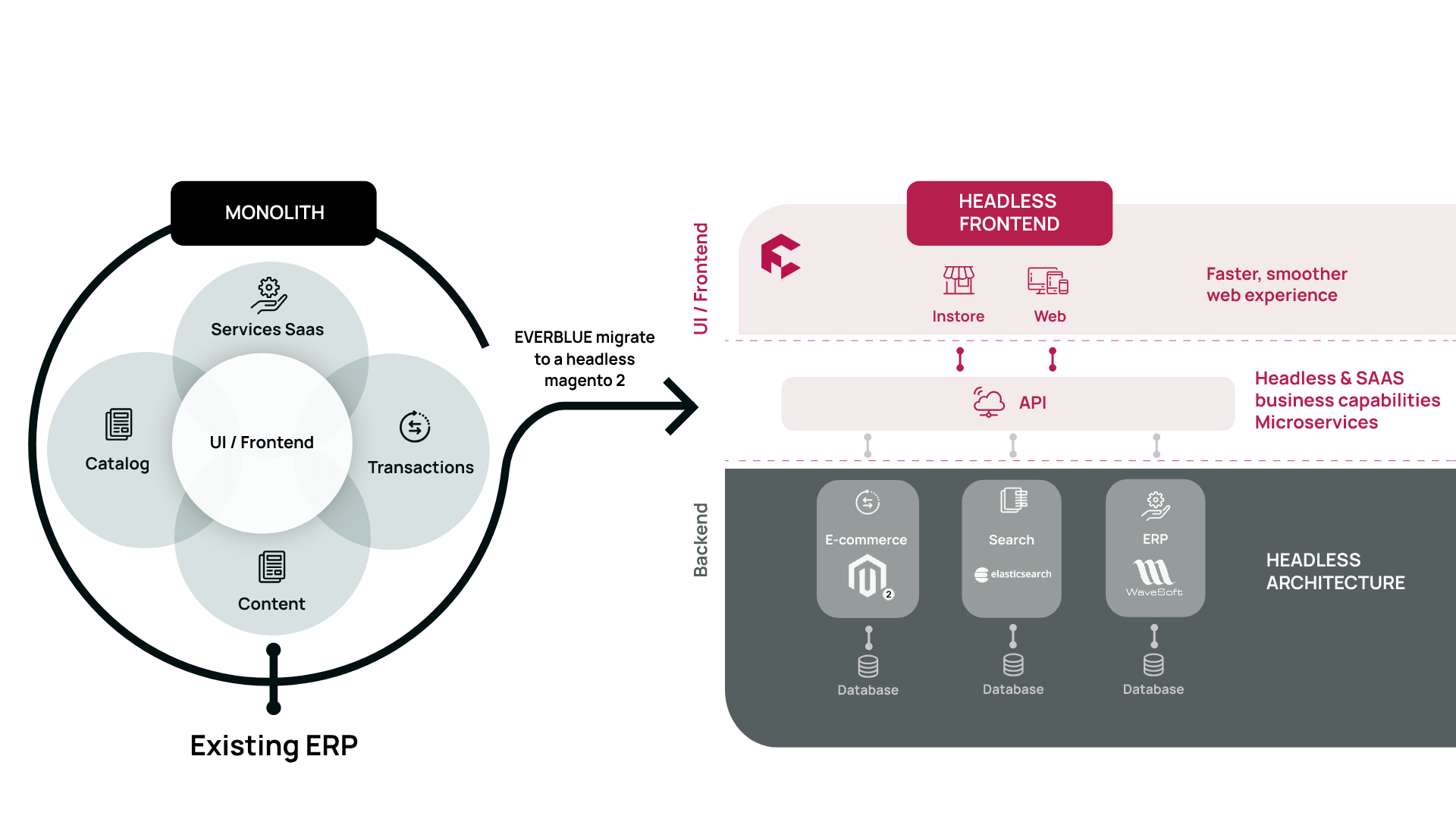 "We like using this solution because it's high-performance, especially on mobiles and tablets, completely uncoupled from Magento, which gives us great autonomy in terms of layout, and already has all the e-commerce elements, including some B2B ones, making our work easier." – Occitech
Dealer-specific developments
EVERBLUE's specifications included a customized list of B2B functions. A full list of the specific functions implemented by ELDEX and Occitech can be read here.
Product documentation
Each product has several types of documentation that need to be accessible from the interface. A connector between an existing Magento 2 extension and Front-Commerce has been developed, enabling Everblue to import files en masse or individually and display them quickly in the web application.
Expanded product views
The complexity of products and their components means that a dealer sometimes needs to be able to order either the whole product, or just part of it.
Occitech has developed a module based on Magento 2's grouped products function to offer a product page that presents the individual components of a product. Navigation between each product and component is seamless via Front-Commerce.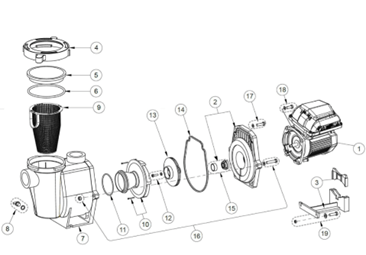 Invited users
To access the store, a dealer is invited to log in. The addition of a new user is controlled upstream by Everblue France via Wavesoft ERP. A received "user" flow then automates the creation of a customer account on Magento 2.
Buying lists
A dealer can create different orders made up of pre-selected items according to the needs of a project, with an internal reference, and request that they be delivered directly to the customer. A Magento 2 multiple wish list extension has been enhanced for this additional functionality.
Buying price switch
Front-Commerce has implemented a feature that allows dealers to browse the e-Catalogue with their customers without disclosing their purchase prices, via a discreet switch that has been placed on the interface.
Send files with an order
A custom module allowing dealers to place orders with file attachments, such as a plan, has been created. The files become accessible in the ERP Wavesoft. 
Available funds
Each dealer has an outstanding value for placing orders. We therefore had to develop a customized module that synchronizes this value with Wavesoft, informing the dealer of his financial capacity to place a new order.
A B2B Platform that's Resilient to Change
Everblue pools are renowned for their high quality and durability, and so is the buying process for their dealers.
EVERBLUE dealers now benefit from a set of new and improved digital tools that have been created and optimized with their specific needs in mind. The new platform is flexible and can evolve according to EVERBLUE's needs.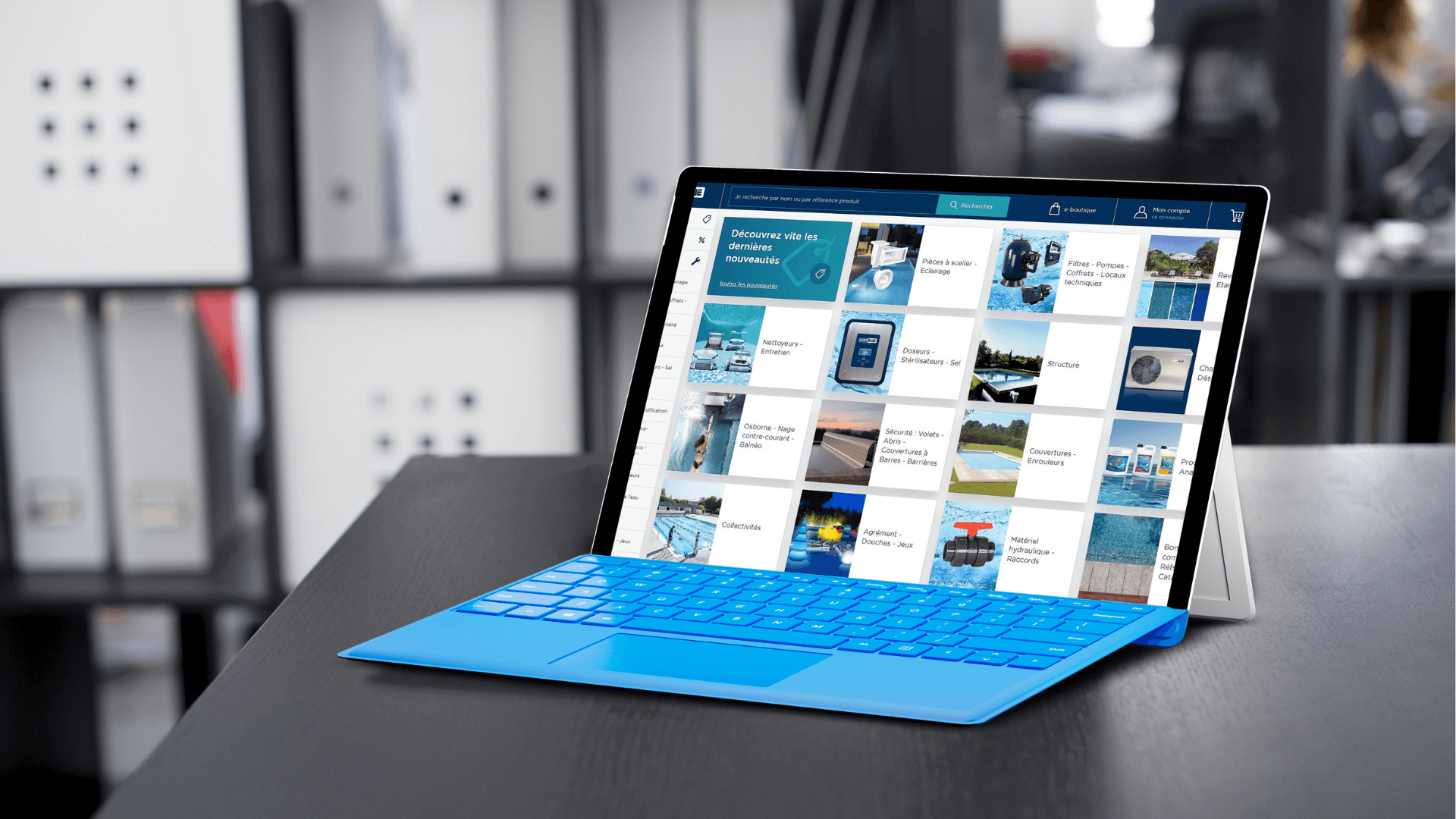 "Thanks to the Front-Commerce architecture, we were able to move forward on 2 axes at the same time: backend (Magento and its administration) and frontend (visitor screens)."
– Occitech