Let's compare Magento 1 and Magento 2 
Are you in the midst of a critical e-commerce platform decision? Or considering whether you should migrate your Magento 1 to Magento 2? Look no further! We've meticulously crafted a comprehensive comparison chart that will guide you through the technical, support, security, and feature differences between Magento 1 and its powerful successor, Magento 2.
Don't miss out – download our Magento 1 vs. Magento 2 comparison chart today and take the first step towards optimizing your e-commerce experience!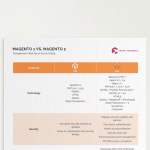 Download the comparison here
Get access to the chart in seconds
Want to compare Magento to Shopify?
We've created an in-depth comparison of the two tools. Here's a quick excerpt:
Magento vs Shopify: what's the difference?

Here's is a quick description of both platforms.

Magento is an open-source e-commerce platform which is free to install. You will need to pay for security, web hosting, and extensions, which will allow you to add all the features you'd like to your e-commerce store. This platform is powerful, but may be difficult for those without coding knowledge. Note that, historically, Magento was open-source and Adobe Commerce was a paid platform. However, following the acquisition of Magento by Adobe, Adobe dropped the name Magento from its communications, but the 2 versions still exist.

Shopify is an e-commerce platform that is easy to use and designed for businesses of any size. It prioritizes simplicity and fast setup, and comes equipped with a variety of built-in tools and templates. This makes it a great option for businesses that want to establish an online presence without needing significant technical expertise.