La Chaîne Thermale du Soleil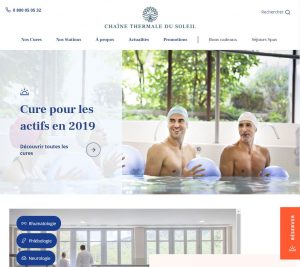 Two new PWA frontend Front-Commerce stores have been deployed in production, with our partners Occitech and Digital PingPong.
A few months after we successfully deployed their gift shop, a Magento 2 implementation, La Chaine Thermale du Soleil (CTS) has renewed its confidence in Occitech to develop new versions of their two main sites:  "La Compagnie des Spas" et "la Chaîne Thermale du Soleil".
An e-Commerce platform without Magento
This project was our first multi-store Front-Commerce in production that does not use a Magento backend.

The customer needs analysis led us to choose an implementation without an E-Commerce engine. Indeed, the complexity of the process of selection of the possible spa breaks and the heavy limits related to this activity required the development of a micro-service dedicated to the management of hotel availability.

The product and CMS information pages are managed from a WordPress instance.
A constellation of micro-services
Front-Commerce middleware retrieves data through WordPress REST API and ElasticSearch projection. Choosing WordPress allowed the team to implement a WYSIWYG editor,  used by site managers to easily build content with a beautiful layout (everyone dreams of a Page Builder right?).
The search uses the advanced features of Algolia, and the emails are sent by Mailjet (via its templating system).
Finally, online payments (via Ogone) were made possible thanks to the integrated payment mechanism of the Front-Commerce core.
Extensible middleware
Thanks to the extensibility of the Front-Commerce middleware, the team was able to implement the required interactions with the custom ERP of "Chaîne Thermale du Soleil" and use them in the complex ordering process.
For developers who want to see our online documentation that explains how to connect third-party sources, head over to Front-Commerce's online documentation for developers!
Conclusion
We are proud to present a reference as beautiful as "Chaîne Thermale du Soleil" and "Compagnie des Spas", and we continue to follow and maintain these sites. And to prove that Front-Commerce supports heavy loads and adapts to all platforms and ERP. 😉