Following the article on the end of magento 1 and the future of e-commerce platforms, Front-Commerce has had a strong demand from e-commerce site publishers who have many questions about the right e-commerce platform strategy to choose.
As a reminder, the most famous Open Source platforms (Prestashop 1.6 and Magento 1), stop supporting these versions and offer a new version so different that everything has to be rebuilt.
The end of support means that platforms will no longer receive security updates, no bug fixes and no further changes will be proposed. It is therefore a real danger for the thousands of merchants concerned. So it's preferable to rethink everything and now!
The functional scope of your E-commerce platform strategy
1. All e-vendors know it, it all starts with an analysis of the website:
2. What is the functional scope to be maintained and what features were ultimately found useless?
3. Which new features are missing from my site?
4. How can my site adapt to new behaviors: push notifications, mobile surfing, offline surfing?
5. Is my site fast enough to optimize my conversion rate and increase my shopping cart?
Have I taken into account the needs of my visitors/customers (UX) by providing them with fluidity and speed?
6. Did I make the right investments in terms of SEO?
You may already be able to answer some or all of these questions. So let's continue the list of questions…
What are the technical matters?
Open source or proprietary
Some proprietary solutions could perfectly correspond to specific business needs. Or, as with some key accounts who choose proprietary solutions because they can support millions of simultaneous connections and extreme loads (Hybris SAP, IBM WebSphere Commerce, Intershop, ATG Oracle and Salesforce Commerce Cloud "WorldClass" solutions)
But the majority of the e-commerce platforms in France, which is aimed at very small businesses, SMEs and ITEs, are based on "Massmarket" solutions: Magento, PrestaShop, Shopify, Wizishop, WooCommerce, Oxatis…
SMILE, the service company that is the reference in Open Source, reminds us in its white paper that the integration of an Open Source solution:
"can be 5 to 10 times cheaper than a proprietary solution",
offers "… no dependence or less dependence on a publisher"
"is more respectful of standards"
"is more open to the addition of extension modules"
Clearly, it is up to you to choose between the advantages of proprietary solutions (additional features, technical support) and the controlled costs of open source solutions.
Open Source hosted mode or SaaS cloud mode
Other articles at E-Commerce Nation have already explored this issue. Here is a short summary of the former E-Commerce Nation article on the subject [FR].
Pros of SAAS mode
A ready-to-use tool with quick implementation and familiarization
No technical knowledge required and simple and intuitive settings
Hosting, backup, maintenance, updates and security included in the subscription
Compliance with legislation by the publisher
Easy and intuitive data export
Economic implementation and configuration
Cons of SAAS mode
Business needs to be adapted to the tool. Does not take into account specific needs.
Themes often pre-defined with minor modifications
Forced marriage with the publisher
Reduced and sometimes inadequate data export
Risk of cost explosion if subscription with commission on sales
Pros of the Open Source mode
Tool can be adapted to the business needs and specificities of the project
Design adaptable
Independence from its service provider
Unlimited data export
Cons of the Open Source mode
Required technical knowledge and sometimes complex settings
Hosting, backup, maintenance, updating and security to be planned with the service provider
Compliance with the legislation to be developed
Higher implementation cost
The conclusion of E-Commerce Nation: NO WINNER.
Again, everyone must compare the pros and the cons with their own strategy for good decision-making.
But did we really ask ourselves the correct questions?
The whole subject is here: is the choice of mode THE GOOD QUESTION to make such a strategic choice?
Before choosing the SaaS or hosted mode, Front-Commerce proposes to first ask the question: Monolithic type or Decoupled type?
Monolithic type (coupled) compared to Headless type (decoupled)
In the first case, the most common at the moment, the e-commerce engine is monolithic and offers all the features and the display of the theme in a single technology.
This requires heavy synchronization with external services, complicates evolutions that can have side effects on the entire system, and potentially can make it difficult to maintain acceptable performance.
In the second case, the e-commerce engine simply exposes an API (machine-to-machine interface) and everything related to the screens and that manages the interaction with visitors is remote in an independent front-end application…
Decoupling then makes it possible to select solutions that can communicate with each other via an API, known as a microservice architecture. Adding, replacing or deleting third-party services (ERP, CRM, CMS, WMS, PIM,…) is then greatly facilitated, with a granularity of hosting resources adapted to everyone, and real-time access to data. In addition, it offers unparalleled performance and almost unlimited functional richness, while offering additional features such as PWA compatibility.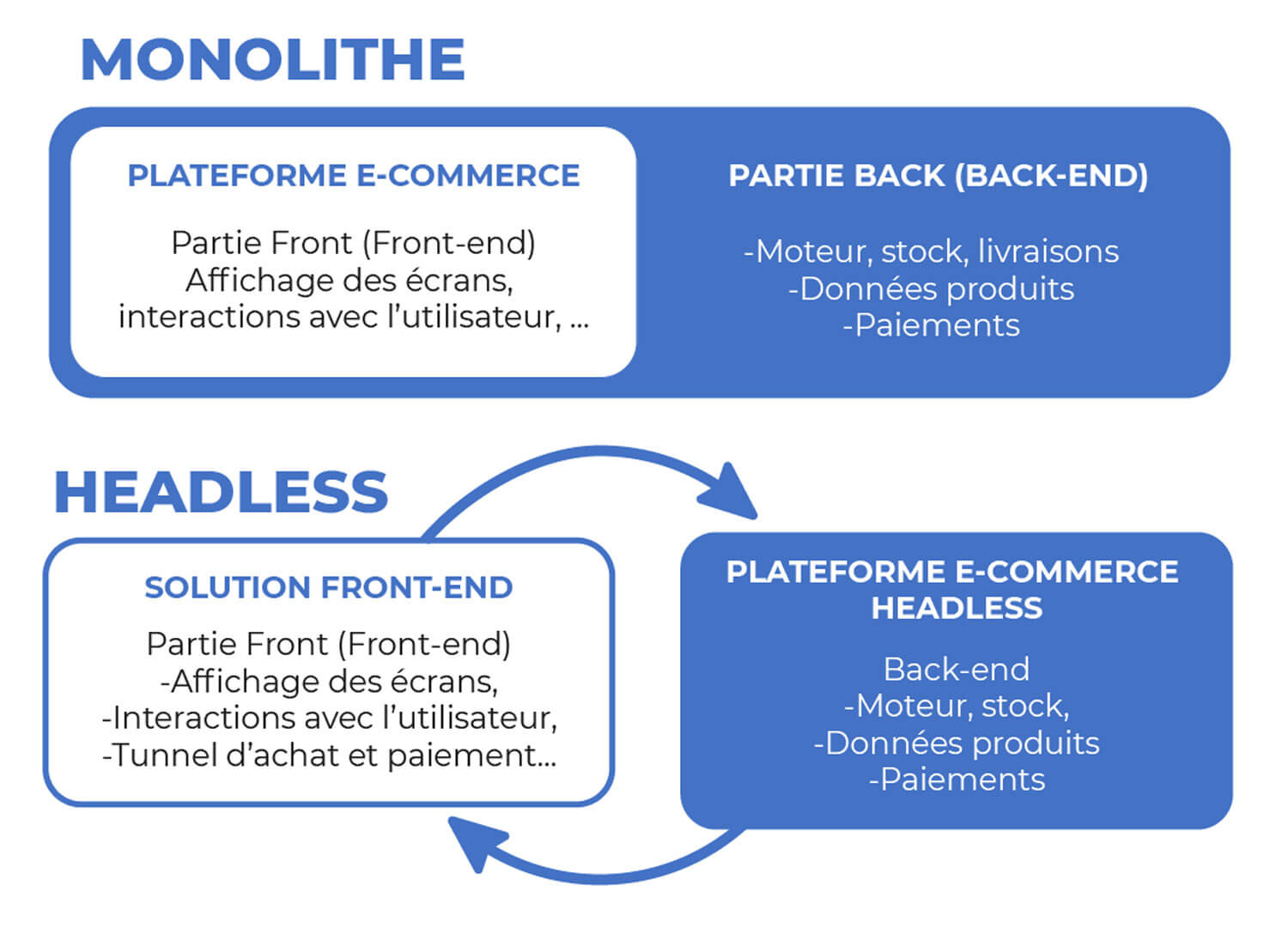 We believe that the future is in microservices. As such, the headless e-commerce engine is one of the bricks that constitute a functional online store. It will integrate perfectly with the rest of the ecosystem. It can then be modified or replaced like any other brick without compromising anything.
The more features that are remote, or decoupled, on the Front-End solution, the more independent you will be of the e-commerce platform.
Investments made for the development of specific functionalities, for example theme creation without limits and taking into account UX, are investments that will be retained, regardless of the "headless" platform you choose, with simple adaptations.
And finally, the choice of the headless e-commerce platform will be easier because the most essential elements related to your visitors (acquisition, loyalty) and your natural and paid SEO will be located in the Front-End solution.
Several open source platforms are already headless: Magento 2, Shopify, BigCommerce, Moltin, Spryker, …
And many of them offer cloud services.
So which E-commerce platform strategy should I choose?
For Front-Commerce, it is clear that today a platform must be Headless for innovation and performance as well as for the relevance of the investment.
Front-Commerce was created on the queen of platforms: Magento. Among the best e-commerce platforms on the top of the market, complete and functionally rich, when it is decoupled and added to Front-Commerce, its advantages are increased tenfold and its defects erased.
However, other headless engines are competing, so we are developing or will develop Proofs Of Concept (POC) for these platforms: Prestashop, Sylius, Moltin, Oro-Commerce, Shopify, … which also have great assets and arguments.
Feel free to contact us for more information.
Conclusion
Front-Commerce is the pioneering, ready-to-use and French Front-End solution for e-commerce.
With its wide and extensible functional scope, its fully delivered source code and its advanced technology, it accompanies you in your innovation and evolution.
If you are envisaging a decoupled architecture for your shop, we most certainly have the ideal front brick to build it.