Existing commerce platforms are no longer sufficient to overcome certain issues that stem from their technology. Their rigidity and their lack of scalability, do not allow for strong business growth. Alongside hyper-connected customers and a blurred boundary between B2B and B2C, the market has seen the emergence of hybrid platform models… This is the end of the monolithic commerce approach: it's time to move to Composable Commerce!
Gartner predicts that organizations that have adopted a composable approach will outpace competition by 80%. But just why are businesses making the move to Composable Architectures? Read on to find out!
Why are we moving towards composable architectures?
Traditional IT architectures make the process of automating and optimizing virtual machines almost pointless. After the time of virtualization, converged architectures, and then hyper-converged architectures, we are now in the era of composable architectures. 
Like its predecessors, composable architectures bring a lot of flexibility to servers and networks. However, this new generation enables a deeper software-defined approach than previous ones.
As you can see, composable architectures are ideal for e-commerce sites: this is composable commerce. 
What is Composable Commerce?
Composable commerce is a flexible, modular e-commerce architecture tailored to a retailer's specific needs. A 'Best-of-Breed' approach is used when selecting components, or micro-services, that are then stacked, or combined, to build a custom platform. Each micro-service is loosely connected via APIs, and their data is then shared & communicated via these APIs. All put together this approach creates a complete, business ready solution that is more easily maintained, evolutive, optimized and high performing.
Composable Commerce is modular 
The term modular refers to the independent aspect of each component, autonomous and completely independent of the rest of the system. 
Composable Commerce is open 
An e-commerce brand, its partners or its technology suppliers create programming interfaces or APIs, which will then undergo different integration models, test new services, etc. In short, it's an open model that encourages knowledge sharing, customization and interoperability.
Composable Commerce is flexible 
The aforementioned APIs, the cloud, micro-services and headless architectures are technologies that inspire and feed Composable Commerce. No wonder: these flexible and modern approaches are also based on open standards with compatible functionalities. 
Composable Commerce is ideal for enterprises 
This architecture gives enterprises complete control to compose a single solution, delivering the right experience for their customers and responding to the business dynamics of their industry. It encompasses the tools and capabilities required for such a mission, while reducing the costs associated with such an operation. 
What Composable Commerce actually does is bring together the many technologies (APIs, headless, cloud…) by containing them in a much broader strategic and architectural framework to meet the needs of the customer, the sales people, not to mention the technology. The goal is to unleash the growth of e-commerce and capture significant benefits, both at the technology and business levels.
How is Composable Commerce changing the e-commerce experience?
Composable Commerce mobilizes best-of-breed technologies from multiple developers rather than focusing on a single, narrower one that is supposed to fit all companies, businesses and customers.
The top technological benefits of Composable Commerce
You can respond quickly to changing business needs with an architecture created for iteration.

The risk of priority lock-in is avoided as components are exchanged according to business needs. 

Costs are reduced and operational efficiency is strengthened with linked tools.
The top business benefits of Composable Commerce
Create a unique user experience for your brand, feeding off customer demands & needs to get as close as possible to their expectations. 

Differentiate your commercial experiences from those of your competitors, and assert your company's position in the market. 

Gain total control over your e-commerce and the data surrounding it. 

Leverage the possibility of monetizing all points of contact with your customers.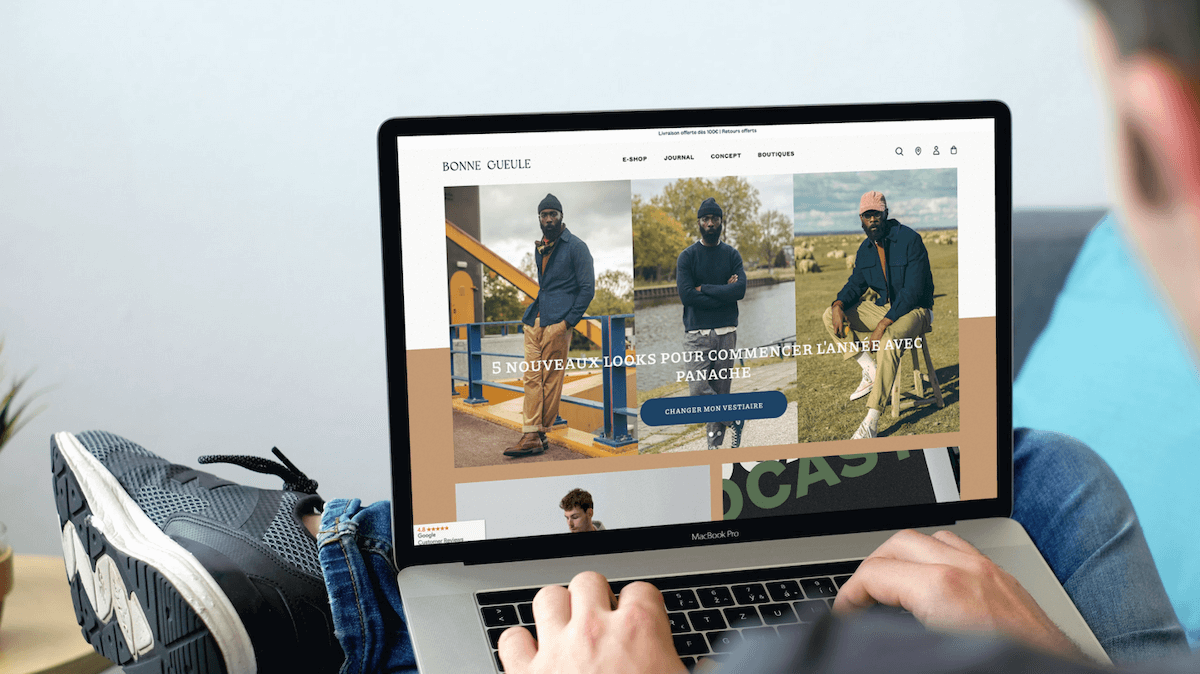 Client Case Study
Bonne Gueule fusion their media site and e-store into a unique omnichannel experience.
"The new "Bonne Gueule" is the epitome of composable projects ensuring that the brand has both a platform that meets the requirements of modern consumers, and a long-lasting technical stack that is ready to accommodate all future developments." Antadis, Digital Agency
How can I implement a composable architecture?
This kind of project synergizes very well with a headless technology. First of all, decoupling your frontend and backend to adopt a "headless" architecture is one of the best technological approaches to composable commerce. A headless architecture makes it easier to compose your tech stack "à la carte" and meet the unique needs of your brand now and in the future. Partners like Front-Commerce can help you with this.
As you can see, choosing Composable Commerce is choosing an adaptive model for your e-commerce site. It allows you to remain agile and customize your offer to differentiate yourself from your competitors and respond to your customer expectations.