Bonne Gueule fusion their media site and e-store into a unique omnichannel experience

Launched as a blog in 2007, by 2014 Bonne Gueule had become a French menswear brand with their first range available in an online store. The e-boutique was followed by the opening of physical stores from 2015. Despite phenomenal cross-channel growth, Bonne Gueule remains committed to bringing products and content that meet modern standards of sustainability and quality to their ever growing community.
With multiple channels and a media first website centred around helping their customers feel good, Bonne Gueule's customer journey is a key part of their commerce strategy.
The challenge they faced: merging an e-commerce activity and a fashion media site into a unique omni-channel experience without compromising on web performance.
Working in collaboration with digital agency, Antadis, it was decided that a composable architecture with a modern front-end and CMS would allow them to unify the customer experience and create flexibility for future development.
Building a sustainable technical stack
The existing Prestashop platform was migrated to Magento 2, which was simultaneously adapted to a composable architecture with the addition of a Prismic CMS and headless front-end solution, Front-Commerce. Not forgetting, Algolia as a search solution: the glue between the media and store products.
By choosing a composable architecture with a headless and microservices approach, Bonne Gueule have ensured that their e-commerce platform remains flexible enough to make isolated changes as their business and customer needs change, without undergoing a complete overhaul each time.
Leaning on the API's available, the entire platform has been made-to-measure to enable Bonne Gueule to exploit fully each feature, service and data to create the best possible customer experience.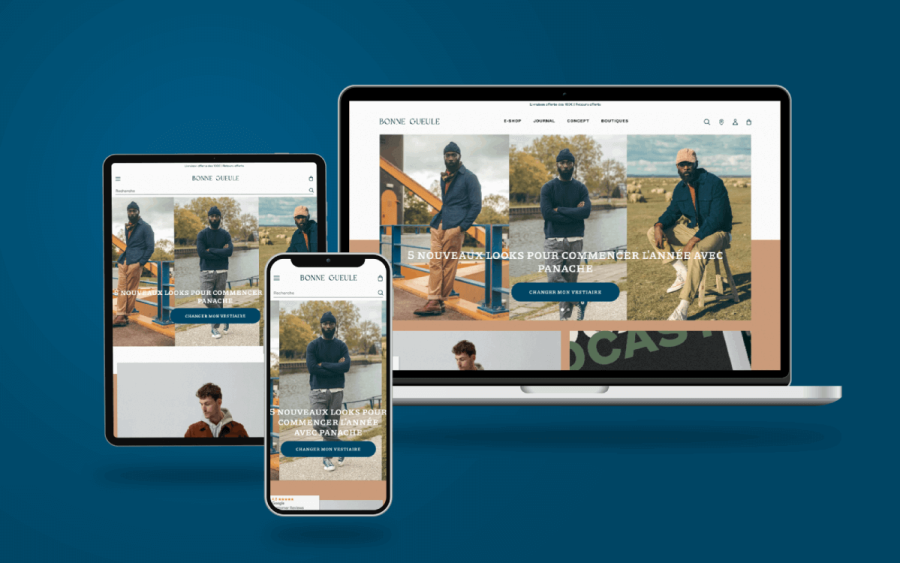 "With its back-office brick jointly managed by Magento 2 and its ERP (Odoo), its headless CMS (Prismic), and its PWA front-end powered by Front-Commerce with cutting-edge languages (React, NodeJS, GraphQL…), the new "Bonne Gueule" is the epitome of the headless project which ensures that the brand has both a platform that meets the requirements of modern consumers, and a long-lasting technical stack that is ready to accommodate all the developments of the future" Antadis
Bonne Gueule Migrate to a Composable Architecture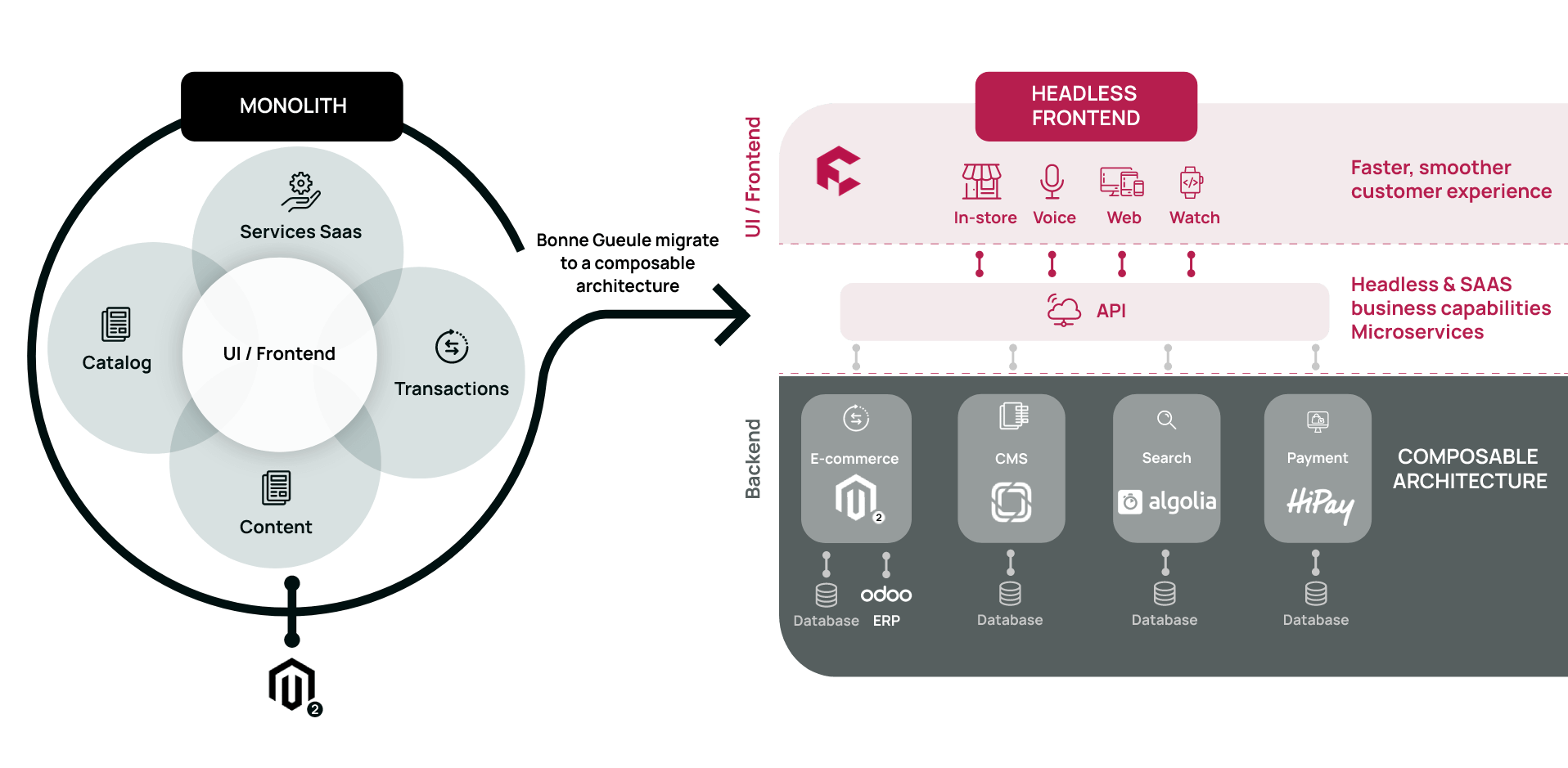 Migrating existing content seamlessly
An important issue during the implementation of this new architecture was the migration of the existing content from WordPress to Prismic.
Migrating a website from WordPress to Prismic can be a complex process, depending on the size and complexity of the site. The site had a large number of pages & posts to be migrated, not to mention a custom design that also had to be recreated. It was also necessary to ensure that the migration had no negative impact on SEO.
Once the migration was complete, the content then needed to be exploited in a fully integrated way with the commerce layer via Front-Commerce. Thanks to Front-Commerce's GraphQL layer, the team has been able to satisfy the domain requirements and expose a unified view of all data ready for use on the frontend.
Bonne Gueule leverage the benefits of composable commerce
Bonne Gueule switched to a composable architecture in 2022. A composable architecture provide the brand with many benefits, such as a true omni-channel experience across physical outlets and digital channels, greater flexibility, faster deployment of new features, and better performance and reliability.
The  real challenge was merging their e-commerce activity with their fashion media site into a unique, streamlined experience without disrupting the entire platform. The key to success was in identifying their specific needs and matching them to the ideal technology and platforms, before carefully assembling each component together.
The result, a seamless shopping experience between the different sales channels, that's ready to be adapted as and when customer needs change. A Bonne Gueule customer can now shop across all physical and digital sales channels in a unified manner.