Front-Commerce product evolution & improvements
As the company progresses, Front-Commerce is constantly adapting to the changing needs of its customers and the e-commerce market. With each release, the product is becoming increasingly sophisticated and comprehensive, offering customers more features, integrations and capabilities than ever before. Our goal remains to ensure that Front-Commerce remains a top-of-the-line headless front-end solution for businesses looking to maximize their e-commerce potential.
As you can see from the table and video below, Front-Commerce has evolved a lot in the last year. From both a technical and a functional point of view. So what's next? We have a lot of big things lined up for 2023, but we aren't ready to let the cat out of the bag just let! So let's start by taking a look at everything that was achieved by our product team in 2022: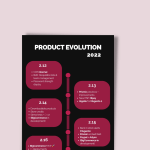 Download the PDF version of the timeline (it's prettier 😉)
Release
Goal & features
Release 2.12

CDN Akamai
B2B: Requisition lists and team management
Password strength display

Release 2.13

Prismic previews + improvements
New PSP for Front-Commerce: Hipay
Algolia for Magento2

Release 2.14

Downloadable products
Store credits
Stress tests + Cloud v2
(BigCommerce connector in development)

Release 2.15

Back in stock alerts (Magento)
Prismic Embed Fields
Paypal x Adyen
(BigCommerce connector in development)

Release 2.16

BigCommerce MVP 🚀
Cloud deployments TwicPics
Magento native search
Dependencies and upgrades

Release 2.17
Release 2.18

From Platform.sh to Front-Commerce Cloud: 100% 🎉
Cockpit beta
PSP module improvements (Adyen, Lyra, PayPal)
Prismic into core

Release 2.19

POC Somfy
Attraqt Search v1
Magento 2 native search
Autumn Cleaning
New BigCommerce features
GA4 and Matomo compatibility

Release 2.20

BigCommerce multi-store support
Node 18
Proactive monitoring for Cloud Audits 🧑‍🏫

Release 2.21

Secret Prototype 🎉
Cloud monitoring improvements
Algolia XOR search
Get full details of each release directly from the changelog.