Founded in 1847, Thuasne is a Medweartech pioneer, with operations spanning the worlds of medicine, materials, and digital technology. Thuasne recently launched a global digital transformation strategy, with the aim of centralizing their operations and developing a B2B e-commerce sales channel. 
Why the shift to headless?  
With this digital transformation strategy, Thuasne wanted to:
Improve the company's image and improve customer loyalty and retention by providing easy, evolving, and modern tools and services, with close attention to the global user experience;

Harmonize their existing sales channels and develop a B2B sales channel to be able to offer their customers a comprehensive view of all the services offered by Thuasne;

Bring flexibility and new features quickly and easily to the platform by adopting a headless architecture.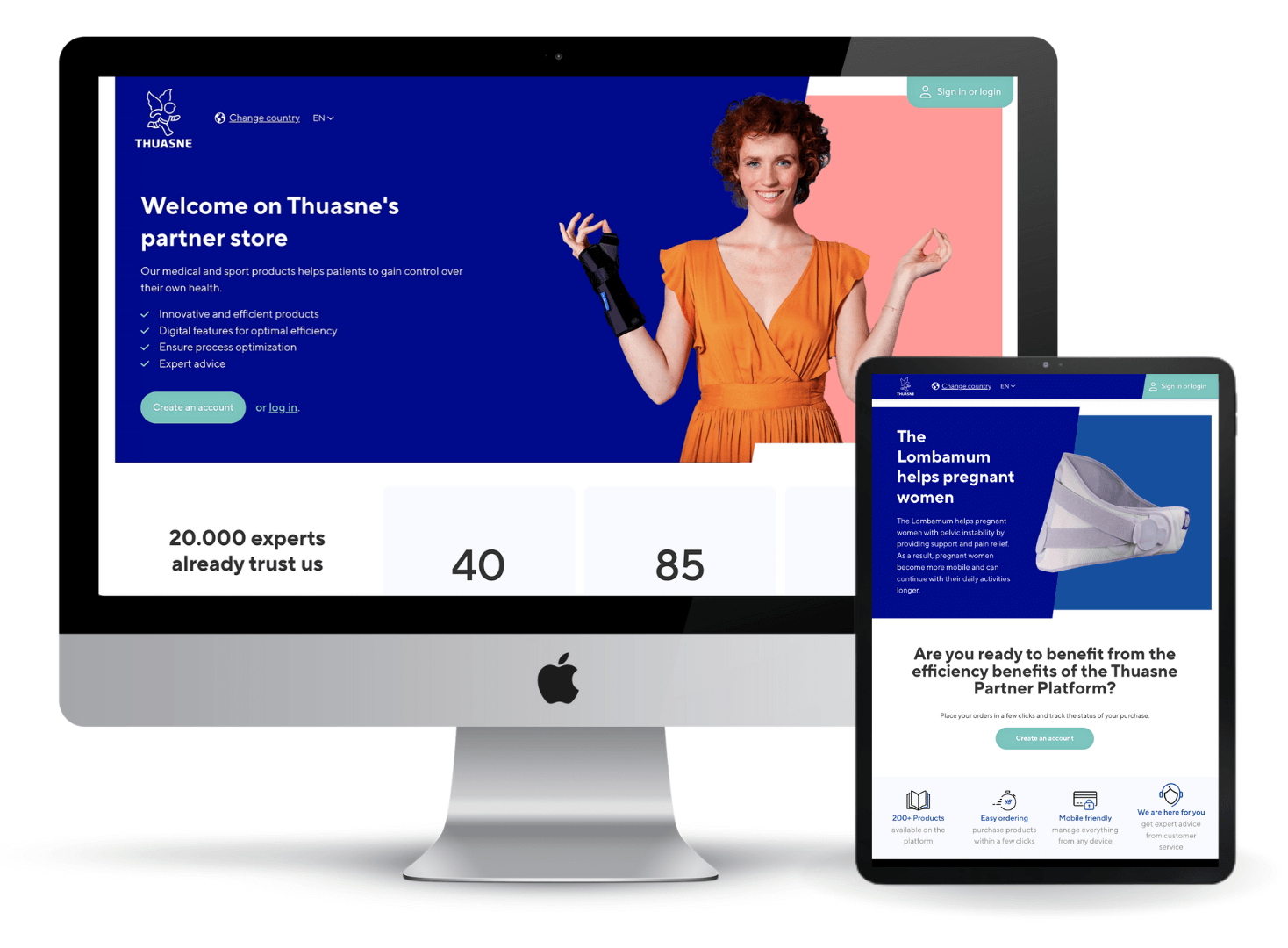 From a more long-term perspective, Thuasne's goal is to address new sales channels and new customers in countries where digital presence was non-existent, develop new business model capabilities, and ultimately limit their dependency on traditional sales channels. To achieve this, they have a strategic plan of expanding their geographic reach, starting with a single area and gradually expanding to new countries.
One key aspect of their expansion strategy is a phased rollout approach. This allows them to gradually introduce their products and services to new markets, while ensuring a smooth transition and mitigating potential risks. The phased approach has proven successful time and time again for software rollouts and is an interesting and successful strategy for companies looking to expand into new markets.

To achieve all these goals, they opted for a new headless ecommerce architecture.
Surrounding themselves with best-of-breed partners and solutions 
Having selected Webqam as their integrator and creative agency, they moved to Adobe Commerce Cloud B2B for their ecommerce platform. They also chose Algolia, a leader in scalable, secure, digital search and discovery experiences solutions. At the center of their architecture, Front-Commerce will be their headless front-end, connecting via API to their various existing or new backend components, like internal business applications. 
By selecting these best-of-breed solutions and opting for headless commerce, Thuasne has developed a future-proof B2B e-commerce architecture. This fully tailor-made solution will allow them to remain flexible, with the ability to scale their different systems as needed. Thanks to the API connectors, they will be free to update or change components when deemed necessary, without having to overhaul their entire architecture each time.  
Here's how their architecture evolved: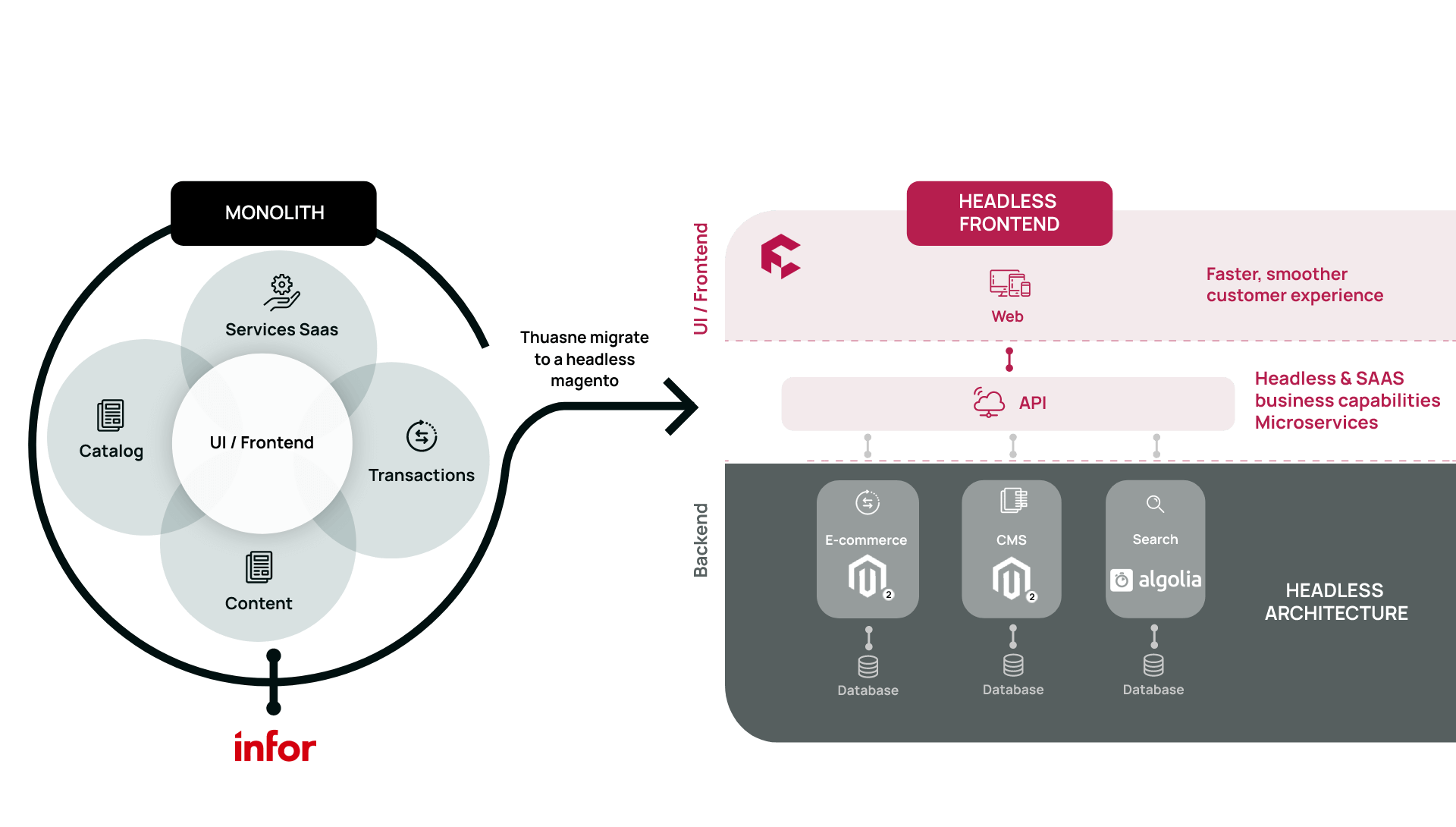 B2B-specific advanced features
One of the key challenges faced by Thuasne was finding a solution that could meet their specific needs as a B2B company. They required advanced B2B features such as requisition lists, company accounts management, and a quick order function. After careful consideration, they chose to work with Adobe Commerce as their platform of choice and were able to implement these features thanks to Front-Commerce's front-end. 
The requisition lists feature is a unique offering that allows customers to save time when ordering frequently required products, as the items can be added directly to the shopping cart from the requisition list. This feature is especially useful for customers who handle multiple lists for products from different suppliers, buyers, teams, and more. The user interface is tailored to handle a large number of items, making it easy for customers to use. Requisition lists can be used by both logged-in users and guests, providing flexibility for different types of customers.
Company accounts management is another standout feature Thuasne decided to implement. The company structure page makes it easy for big company administrators to manage their accounts, with a tree structure that can be expanded to include teams of users. This feature allows administrators to associate users with teams or organize them within a hierarchy of divisions and subdivisions within the company, providing a centralized system for managing user access and permissions.
The quick order function is a time-saving feature that reduces the order process to just a few clicks for customers who know the product name or SKU of the products they want to order. This feature can be used by both logged-in customers and guests, and orders with multiple SKUs can be entered manually or imported into the quick order form. The quick order link is conveniently located at the top of the page, making it easy for customers to access and use.
These advanced B2B features were a major reason why Thuasne chose to work with Adobe Commerce and Front-Commerce, and they have had a significant impact on the company's operations. By streamlining their processes and improving efficiency, they are better able to serve their clients and maintain a competitive edge in the market. Thuasne also became one of, if not the first Adobe Commerce B2B PWA storefronts with advanced B2B features.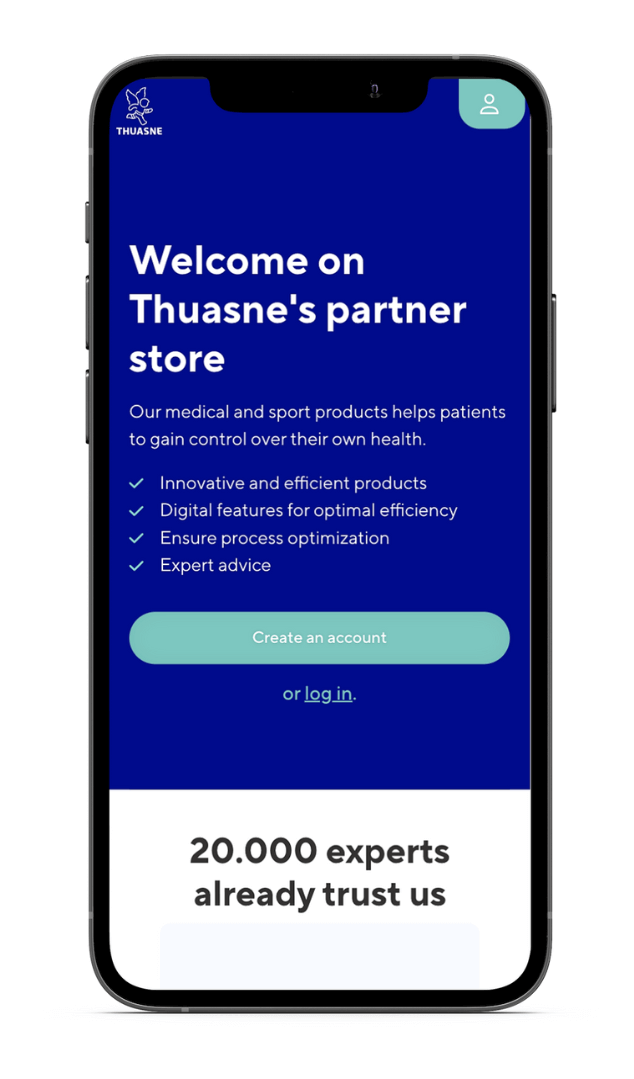 Thuasne puts their customer experience front and center
When Thuasne decided to transform their business processes and reinvent their digital space, they wanted to build a strong and global e-commerce platform, able to offer their customers a unified and enhanced online experience. Scalability and harmony were key and Thuasne wanted to deliver additional services to their B2B customers and new functionalities to Thuasne teams to help them perform and grow their local business. Headless was the right bet. Composable commerce will be their next step to flexibility.
They have been able to deliver on that improved customer experience goal and have successfully launched a brand new B2B website.